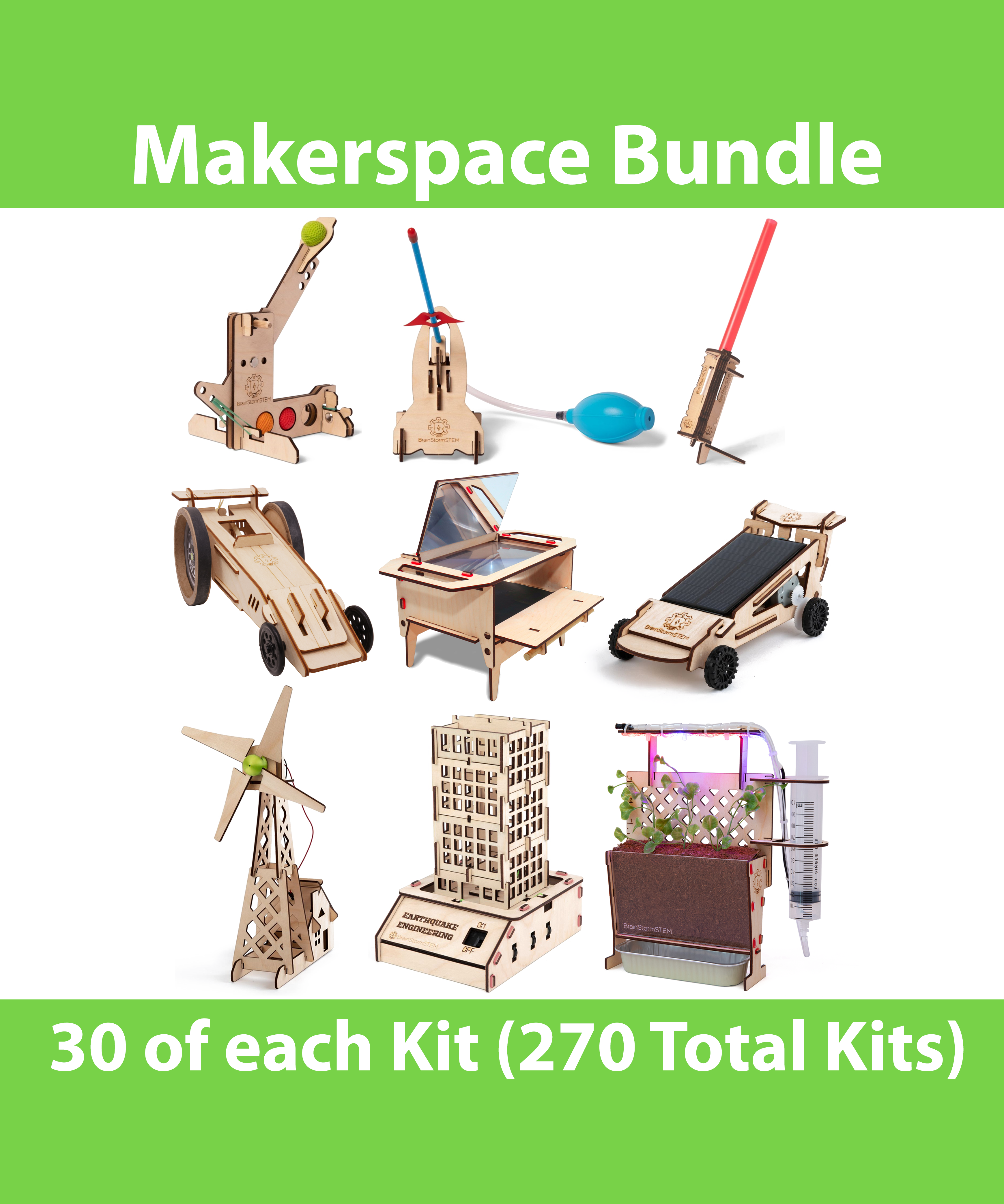 Makerspace Complete Bundle - STEM Variety Kit [30 of each kit for 270 total kits]
【A Range of STEM Concepts for Schools】– This mega bundle for makerspaces features even more ready-to-go STEM kits! Covers a plethora of NGSS and Common Core standards with hands-on STEM experiments. Explore 9 different scientific concepts with hours of engagement for the whole class! 
Includes 270 of our favorite STEM Kits for schools in one package at a discount price! We send you:
30 Solar Oven STEM Kits
30 Rocketry STEM Kits
30 Wooden Catapult STEM Kits
30 Wind Energy Turbine STEM Kits
30 Circuit Sword STEM Kits
30 Earthquake Engineering STEM Kits
30 Seed Science STEM Kits

30 Solar Racer STEM Kits

30 Energy Dragster STEM Kits
Each STEM kit comes ready for students to build, including step-by-step instructions and all materials needed! 
BrainStorm's STEM project mission is all about experiment sets that kids can actually understand and create. We engineer our kits so that each is a learning and success experience that makes kids become passionate about something new while getting a new learning toy to keep. They're reusable, too!
【By Teachers, For Teachers】– All kits are designed and tested for an innovative classroom STEM experience! Our parts use safe, simple slide-in wooden connector joints instead of glue and mess. Learn through creation and bring real hands-on engagement into science class! 
【Hands-On STEM Engagement】– Take science class to new levels with real hands-on experiments! We design our STEM kits for student success, so that kids can actually engage with difficult topics in a way that they can understand - while building a fun project they can use again and again.